Organic Potash for Gardening - Why it works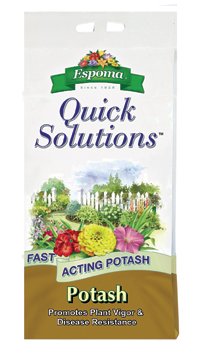 Potash is any "compound" that contains potassium. Potash can be sourced from plants such as comfrey or even from ashes left over from your last fire or bonfire. Potash can be gotten from chemical forms such as Nitrate of potash (potassium nitrate) or Sulphate of potash (potassium sulphate).
Most gardeners will agree that Potash is an amazing compound when it comes to gardening. The Potassium in Potash is key to helping plants produce beautiful, healthy fruit.
So in a nutshell:
Nitrogen increases foliage and plant growth and
phosphorous helps root structure,
potassium (K) produces fruit and flower
Organic Potash like Quick Solutions has additional enrichments added. Another way to get potash is from your fireplace. Wood ash is a great source of potassium. Potash is especially beneficial for lemon and citrus trees. You can sprinkle ash from your fireplace to help plants hold more fruit.
Just remember to let fire to burn out by itself rather than dowsing it with water because the wood ash will retain all its potassium it it is not dowsed with water. If you don't have a fireplace, the next best source is available from BackyardStyle.com.- Organic Potash from Espoma
The word "potash" is derived from the Dutch word Potasch, and originally referred to wood ash. Potassium carbonate, a basic chemical of pre-modern times, was extracted from it.
Today potash refers to potassium compounds and potassium-bearing materials, the most common being potassium chloride (KCl).
Labels: Gardening